Your port of embarkation for the journey to the Silver Bank is on the north coast of the Dominican Republic, in the Cofresi beach area a few miles west of the gateway city of Puerto Plata and its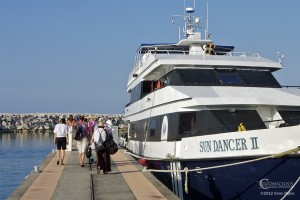 international airport. Cofresi is the location of the Ocean World facility, a tourist destination featuring an adventure park, restaurants and casino, and the only full service marina on the north coast of the Dominican Republic. The Ocean World Marina is where your transfer will deliver you to board the vessel on Saturday afternoon, and where you will disembark at the end of your adventure the following Saturday morning.
Puerto Plata and vicinity is a heavily visited resort area with everything a traveler may need. There are the international airport, resorts, hotels, restaurants, shops, drugstores, internet cafes, taxis, and sightseeing. Many visitors to the Silver Bank extend their stay in the Dominican Republic to enjoy the shore-side facilities as well.
Airports & Arrival
It is anticipated that all guests will arrive in the Dominican Republic by air. In Puerto Plata, the Gregorio Luperon International Airport (airport code POP) is closest to the Ocean World Marina. Transport from the airport to Cofresi should take about 30 minutes, less to area hotels. Another option is Cibao International Airport, located in Santiago (airport code STI). Transport from Santiago to Cofresi is about 90 minutes. Be advised that since airfares and flight times can vary significantly between POP and STI, you may want to investigate both options keeping in mind the differences in costs for ground transportation. Other international airports are available but will add significantly to travel time and expense.
Guests board the vessel Saturday afternoon at 5:00pm. We recommend that if you will be flying from, or connecting through, any airport that may be affected by winter weather, or are arriving from outside of North America, you should consider arriving on Friday, the day before embarkation or earlier. This will allow time to overcome any delays in travel or baggage issues that may occur en route.