Our daily excursions to encounter the humpback whales are conducted aboard our two purpose-built whale boats, Pec & Fluke.
A great deal of time is spent aboard Pec & Fluke each day while in search of whales; they are a big part of your overall experience while in this special place.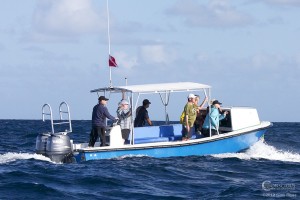 For that reason, Conscious Breath Adventures is excited to provide to you for your pleasure the two finest whale boats operating on the Silver Bank.
Pec & Fluke were specifically built for duty on the Silver Bank. They are each 25′ (7.5m) fiberglass boats, with a wide 9′ (2.75m) beam that offers a stable ride to the guests. Built for open water, each boat has an unsinkable, foam flotation filled hull, and twin four stroke outboard engines. Having twin engines adds a large measure of safety and dependability, and because they are four stroke engines, they are quiet and have low emissions. These are important environmental considerations while operating in the sanctuary and around the humpback whales. Each boat is also equipped with short range VHF marine radios, GPS, fire extinguisher and signalling flares.
Custom Features
Pec & Fluke host an assortment of custom features. Each tender has expansive hard topped sun shade and spray protection. There is a generous dry storage area forward with a shelf for cameras and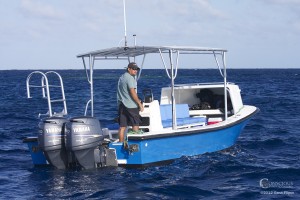 other gear. Each boat is equipped with a fully cushioned central bench that runs fore and aft, which means all guests are seated on comfortable benches with full backs in the shade and away from the spray, not on backless benches on the rail. This is an important comfort feature that is exclusive to Conscious Breath Adventures. With the benches configured fore and aft, guests will be seated back to back, facing outward with a clear view. This is excellent for comfort as well as looking for and photographing whales. There is also a large heavy duty dive ladder to make boarding easier once your encounter is over. And once helped safely out of the water, there is a supply of hearty snacks and cold beverages to satisfy your appetites!
There is one thing that all these custom features can't add to a boat, and that is space. Because Pec & Fluke carry only nine guests plus a crew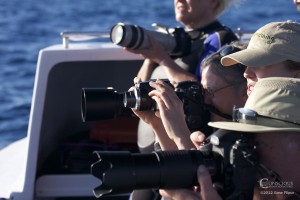 of two at any given time, on two of the largest whale boats on the Silver Bank, there is plenty of space. Big boats with fewer guests means more space for you and all your snorkel and camera equipment. It means fewer people jockeying for position for a view, and more space for photographers looking to frame up that perfect shot. The mixture of size, comfort and light passenger load is an unbeatable combination.
A Smaller Group Means a Better Experience With the Whales
Of course, less people on deck also means less people in the water with the whales, and that's where it really counts. Smaller groups have a better chance of entering the water quietly, and are much more likely to have a successful encounter.
It is easier for participants to stay together, and to follow the directions of the in-water naturalists. It makes it easier for everyone to have that eye to eye encounter they've come for. And for photographers, it means you are less likely to get that perfect fin photo — of your snorkel buddy's fin!
Experienced and Expert Crew
With a crew of two, great service continues while away from the M/V Sun Dancer II. There is an extra pair of hands to help move you and your gear safely into and out of the water. Of equally high value is the fact that because one of these crewmen will be a Conscious Breath Adventures captain who will be acting as in-water guide, guests will have the benefit of many years of direct humpback whale experience to help lead them to the best encounters possible. These divemasters use their years of experience both on and in the water with humpback whales to help interpret behaviors, select appropriate whales for approach, and then successfully guide the approach and interaction.
It is easy to see that with this combination of personnel and passengers, size, space and equipment, your time spent aboard these whale boats while looking for whales will be comfortable and rewarding.