When you take a cruise with Conscious Breath Adventures to experience the humpback whales of the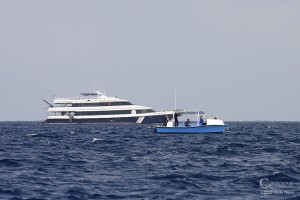 Silver Bank, your week will be spent aboard the finest vessels to serve the Silver Bank. When you consider that for the duration of your journey you will be aboard one boat or another, this takes on a very personal and pleasing significance.
Your home on the Silver Bank is the incomparable 138′ M/V Sun Dancer II, widely regarded as the finest liveaboard dive boat operating in the entire Caribbean basin. Carrying only 18 passengers in nine well-appointed staterooms, there is plenty of room to relax an enjoy the service of an attentive and professional crew.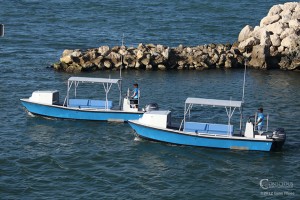 Our two whale boats, Pec & Fluke, are owned by Conscious Breath Adventures and maintained to the highest standards of dependability and comfort. Completely refurbished for 2012, our 25′ boats have comfort features, like expansive shade cover and fully-cushioned bench seats, that are exclusive to Conscious Breath Adventures on the Silver Bank.
There are so many fine details to share about these boats at your service that we have dedicated a page to each the M/V Sun Dancer II and Pec & Fluke here on our site. Please have a look at what awaits you.