Education
Conscious Breath Adventures believes that anyone who embarks on a wilderness or wildlife adventure such as a journey to encounter the humpback whales of the Silver Bank should come away from the trip with more than photographs and unforgettable memories. Our philosophy is that guests should gain a deeper understanding and appreciation of the humpback whales they encounter so that they will return home as knowledgeable ambassadors for the whales and the oceans.
Toward that end Conscious Breath Adventures offers several avenues through which we educate our guests about the whales, the issues they face, ongoing conservation efforts and latest research findings. Our staff has many years of direct experience with marine mammals, ocean and conservation matters and are always happy to share what we know while we are out on our whale boats among the whales. It's the ultimate field trip! In the evenings our staff also offers multimedia presentations on a variety of subjects including whale and humpback whale biology and natural history, behaviors, the geography of the Sanctuary for the Marine Mammals of the Dominican Republic, and environmental threats and conservation issues. In addition we occasionally have experts in various fields of marine mammology that share their expertise as guest speakers. Our presentations are given high marks by our guests and even whale scientists traveling with us have commented on the complete and accurate content.
Conservation
Conscious Breath Adventures believes that love and respect are important but must be followed by steps to protect. That vital protection comes from supporting conservation efforts near and far. Conscious Breath Adventures is proud to have as part of our team Capt. Jeff Pantukhoff, founder and president of the non-profit Whaleman Foundation, which means that Conscious Breath Adventures has the only on-site conservation presence to be found on the Silver Bank. Together we share information about threats to marine mammals and how we can address them as guests learn from a veteran from the front lines of the battle. A portion of proceeds from onboard video sales also goes toward supporting the Whaleman Foundation's Save the Whales Again! campaign.
Conscious Breath Adventures has also had the opportunity to help the whales directly while on the Silver Bank during three different entanglement situations, allowing us to practice conservation measures in the field. It is a heartbreaking situation to be involved with, but we are happy to know that for these whales at least, an effort was made to improve their plight.
Research
Research of humpback whales is essential to deepen the understanding of the whales in order to be able to better protect and conserve them locally and globally. While the humpback whales of the Silver Bank are heavily studied when they are on their summer feeding grounds in the North Atlantic, the relatively remote location of the Silver Bank makes it harder for many researchers to access them. Since Conscious Breath Adventures and our guests are very fortunate to spend ten full weeks among the whales in this special time and place in their life cycle, we feel it is important that the whales we see and the data we can collect be provided to researchers who can use it. With that in mind, we support research in three ways: through contributions of collected data and materials to researchers; by direct support of formal research efforts on the Silver Bank; and by encouraging and supporting "citizen scientists" engaged in their own line of inquiry.
One of the primary pieces of data collected by researchers everywhere are photos of tail flukes for use for identification purposes. Humpback whales all have unique markings on their tail flukes which can serve much like a human fingerprint to identify individual animals. While on the Silver Bank Conscious Breath Adventures takes fluke ID photos which we then contribute to researchers in the Dominican Republic, Bermuda and the United States.
Because we are able to see the whales underwater, too, we are also able to capture underwater fluke ID photos, which until recently was a very rare occurrence. This has proven to be especially important in identifying mothers and their calves, and even allows us to determine the sex of the calf, too. By being able, with the help of fluke ID catalog curators, to positively identify a mother and her calf, researchers in summer feeding grounds can watch for the pair to see if the calf survives the migration. Knowing if a particular whale has a calf and seeing whether it survives is adding depth of knowledge to reproductive rates, fecundity and calf mortality.
Conscious Breath Adventures also encourages and offers support to "citizen scientists", passionate and curious people who might not have all the degrees of a PhD, but who have an abiding curiosity about the whales and their behaviors. Their contributions are adding more pieces to the puzzle where others may not have looked. Conscious Breath Adventures welcomes these curious naturalists aboard and encourages everyone to see the whale with an inquisitive eye. Consider that some whale swimmers have spent more time in the water and have seen more underwater behaviors than some advancing researchers!
Another aspect of the humpback whale that is heavily researched is their song, the most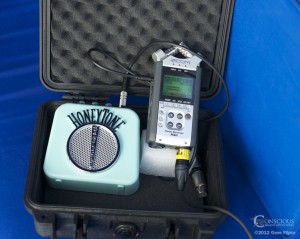 sophisticated in the animal kingdom. Conscious Breath Adventures carries as standard equipment hydrophones, digital recorders and portable amplifier which we use at every opportunity to listen to the whales and record their songs. As with the fluke ID photos, we freely share these recordings to all interested researchers, including impressive graduate students who have used the tracks in the course of their studies.
In addition, whenever possible, Conscious Breath Adventures is happy to work in direct support of researchers who do make it out to the Silver Bank. Past efforts have included a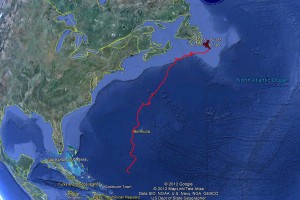 research film crew from Woods Hole Oceanographic Institute shooting 3D footage of the whales, and more recently an international team from the Dominican Republic and the United States' National Marine Mammal Laboratory who deployed satellite tags to track the movements of the whales within the sanctuary and on their northward journey. Their latest effort in 2012 resulted in an unbroken track of 57 days, running  from the Dominican Republic all the way up to the summer feeding grounds offshore Newfoundland, Canada, their longest continuously transmitting tag ever deployed in the North Atlantic humpback breeding grounds.