Conscious Breath Adventures specializes in liveaboard cruises to experience the humpback whales of the Silver Bank. Our cruises take a limited number of guests to spend a week living among the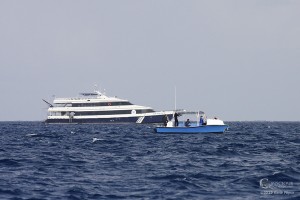 humpback whales during their winter breeding season in The Sanctuary for the Marine Mammals of the Dominican Republic, with the exceptional opportunity for you to enter the water and interact with the whales in their natural environment, on their terms, during a Soft-In-Water encounter.
Conscious Breath Adventures operates cruises of one week in duration during the height of the whales' time on the Dominican Republic's remote Silver Bank. Guests join the cruise at our port of embarkation in Puerto Plata, Dominican Republic, to begin a journey which takes you to witness the largest gathering of humpback whales in the North Atlantic as three thousand and more whales gather to court, mate,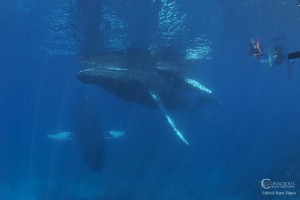 and give birth. You will see all the spectacular surface social behaviors that make humpbacks famous from the decks of our boats and have the thrill of getting in the water to interact with the whales face to face in the water, too. It is truly a life-list experience.
For more detailed information about the cruise itself, you can review the Costs, Terms & Conditions which includes a list of what is and is not included in your fare; pick your travel dates after a look at our Schedule & Availability; learn about our daily schedule during the week by looking at our Cruise Itinerary; and then Make a Reservation to secure your place on an incomparable adventure. If you have any questions please see the answers to our Frequently Asked Questions or Contact Us right away. We are at your service.