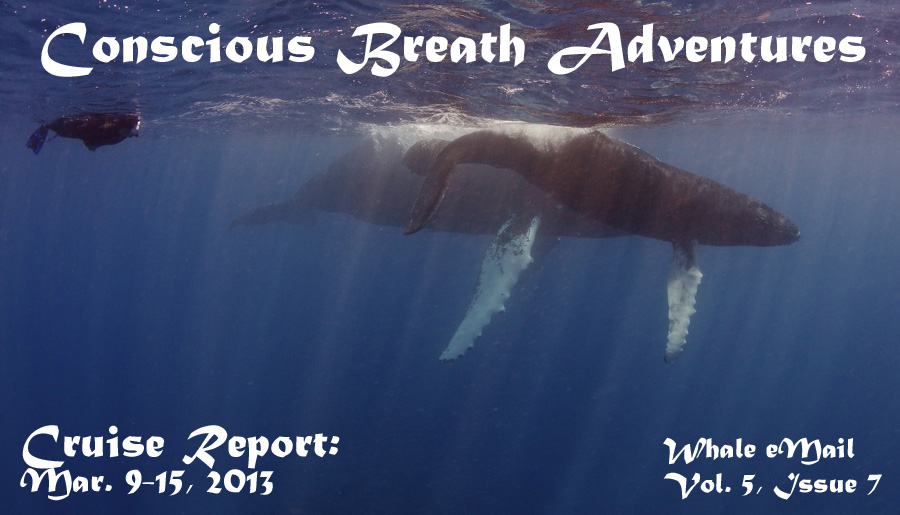 Variety was the keyword this week on the Silver Bank where it seemed like we never saw the same situation twice…
_____________________________________________________________________________________
Sunday, March 24:
Every week we start our trips with a Sunday morning orientation in which we instruct our guests on the specifics of how we interact with the whales and what to expect in the most common situations. I sometimes feel like a Little League coach, telling my eager new players how the game is going to go. But sometimes the other team has different plans!
This afternoon was a prime example. Our whale boat, Fluke, eased guests into the water with a resting adult humpback. This is usually a very mellow interaction with plenty of opportunity to practice the whaleswimming techniques we teach. But this solo whale kicked up the action by coming straight up to the group as soon as they got in the water, giving a big adrenaline rush to these newest swimmers on the Silver Bank. It was quite a comical scenario – 30 plus feet of curious marine mammal coming straight towards our new guests – hello!! But our Little League team exercised good whaleswim discipline and had an exciting introduction to the whales.
_____________________________________________________________________________________
Monday, March 25:
Today was one of those classic days we all love out here when around lunchtime we found one of the friendly mother/calf pairs we met earlier this season. For hours this amiable pair rested in the reef near the anchorage, mom relaxing below, calf playing at the surface, and both of them coming up for closer looks during their breath cycles. By now all our swimmers were totally comfortable, confident and controlled in the water and were rewarded for their efforts (above), and by the end of the day the action had drifted so close to the M/V Sun Dancer II on her mooring that crew on deck could watch the live show while they got ready for the Sundowner Celebration!
_____________________________________________________________________________________
Tuesday, March 26:
This morning we had one of our less typical encounters when we found a solo male whale resting far outside the reef. We had seen him blow from a distance and when we got to his location we were in very deep water off the edge of the Silver Bank. The water was deep, with no bottom in sight, and clear blue. Singing could be clearly heard in the distance and when this whale, who we nicknamed Lonesome Larry, cruised below to look at us, he looked just like a jet plane swooping through a midnight blue sky; it was beautiful. For more than an hour we floated together in the expansive blue void. It was exciting because we rarely find ourselves swimming with whales out in the deeper ocean waters, and when we do the encounters are usually more fleeting.
Adding to the variety, in the afternoon our whaleboat, Fluke again, had a fun run with a group of rowdy male whales as they battled, competing for a single female. It's getting late in the season now, so available single ladies are quick to draw an eager crowd! In these situations all you have to do is identify the female (by size, position, and lack of scarring), and keep an eye on her to be near the center of the action. Many of our guests agree that being near the rowdies is the most exciting thing you can do on the Silver Bank without getting in the water.
_____________________________________________________________________________________
Wednesday, March 27:
Today dawned flat calm with no wind or waves, a beautiful day when a blow or a humped back could be seen for miles. One of our boats made an early start of it when they found a sleeping female with an escort and two circling challengers. While the female rested motionless at or just below the surface, her escort slowly circled; on patrol while two other whales wandered around the perimeter. Drifting with our boat engines off the sound of their breaths seemed amplified as they whooshed huge volumes of air in and out of their lungs. To make things even more exciting, about every fifteen minutes or so the female would wake with a start and execute a series of 3-8 breaches. The view was spectacular and the sound of the landing echoed like thunder across the waters.
After she had moved on for her last time, we approached a solo whale nearby that we had observed periodically during this show. As quiet as it was we did not have to get too close to hear that this whale was singing loudly, plainly audible through the hull of the boat. He did not sit still and was slowly milling about as he sang. For well over an hour we alternated boats and swimmers, one group swimming in the song, the other listening to the hydrophone, and I was able to capture the highest quality audio recording of the entire season which I look forward to sharing as soon as bandwidth allows.
In the mid afternoon a cold front approached and the weather took a turn, changing from sunny and calm this morning to overcast and windswept by the evening. It is always a phenomenon in and of itself to see how quickly circumstances can change.
_____________________________________________________________________________________
Thursday, March 28:
The blast of wintery weather stayed with us overnight and windy, grey skies greeted us this morning. We had several opportunities to swim with whales but the unseasonal weather seemed to make them less relaxed than usual. But an energetic mother with her calf gifted us with the whale watching display of a lifetime! We saw it all as mom breached, lobtailed, pec-slapped and threw her peduncle with wild abandon, sometimes going right from one behavior to the next with only a breath between.
It was a superb grand finale to a very interesting and varied week with the whales. And, we get to shout encore once more as we head out for our final trip this season!
_____________________________________________________________________________________