We had an interesting assortment of guests aboard this week, including a group from the U.S., and folks from Belgium, Scotland and England, including a gentleman we met last year at WhaleFest 2012 in Brighton whose hobby is 3D photography. He sure picked a large-scale subject this week!
Conditions tested our guests' patience and faith during the start of this week but as always, the humpback whales prevailed.
_____________________________________________________________________________________
Sunday, March 10:
Conditions were challenging on the Silver Bank when we arrived today. It was no windier than usual but the big issue was a large sea swell coming down from the north where a powerful cold front was blowing a gale. The big waves hitting the reef created cloudy water through a combination of stirred-up sediment and countless microscopic air bubbles. It makes it hard to swim with whales when you can barely see them down deep as they rest!
But all it takes is finding the right whale in the right place at the right time. After a couple of hours riding around whale watching, it was easy to see that some of the group had given up on the possibility of swimming with whales this first afternoon. But just like that, up pops a mother and calf and before you know it, we spend the last forty-five minutes of the day sharing an excellent swim with the pair. It was a great way to end the start of our week.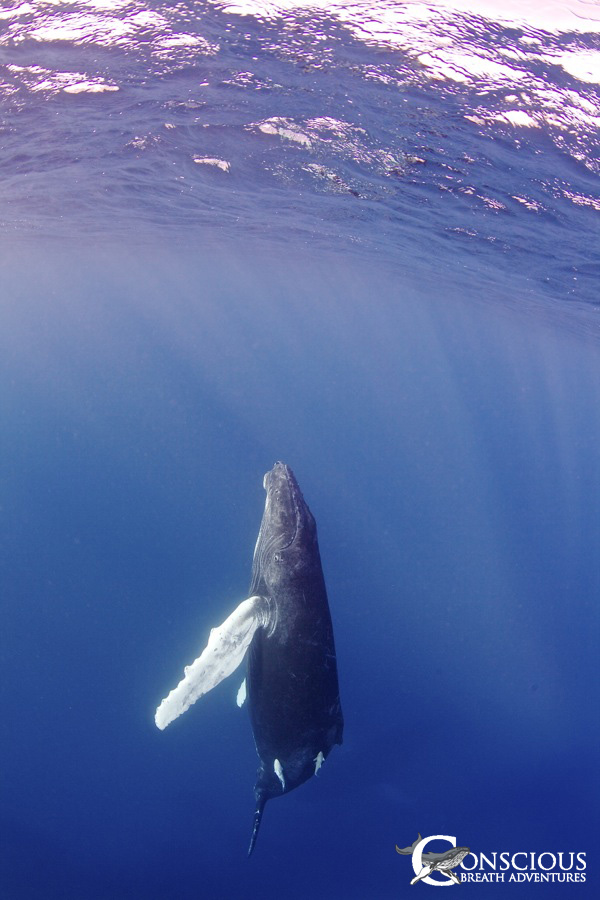 _____________________________________________________________________________________
Monday, March 11:
If we thought yesterday was murky, today was even worse as the large swell continued to make the water cloudy. We had opportunities to swim with whales but when visibility is so low the guides in the water have to keep our eyes on the whales at all times because any distraction will cause you to lose sight of them hovering in the mists below. For the untrained eye they can be almost impossible to see until they surface to breathe, and the whales often seem unsettled in these conditions, too.
We got a little help from some friends around lunchtime when one of our fellow operators called us to join a swim they were having with a very happy calf and her mom. Just right for a day like today, mom rested not far below the surface where it was easy to see her and her white pec fins glowing, and the calf happily frolicked on the surface., rolling and swishing and playing its baby whale games.
Later in the day our luck improved a bit when we found a pair of adults resting below, pec fins just visible, helping mark their location. It was fun to watch them rise up out of the gloom, like submarines coming in through a fog, to surface just in front of us.
_____________________________________________________________________________________
Tuesday, March 12:
Water visibility was improved today, which was welcome good news, and late in the morning our patience was rewarded with a good swim with a mother, calf and escort. Adding to our happiness, the weather cleared, the skies broke and by the time we finished lunch the Silver Bank was a whole new place!
In the afternoon we met yet another mother and her female calf and had a good swim with them. I nicknamed this whale "Three Fingers" because of a distinctive marking on the trailing edge of her right pec fin, three parallel stripes that look a little like a three-fingered ink print, visible in this photo, below.
_____________________________________________________________________________________
Wednesday, March 13:
Weather and water were completely back to normal today. What a beautiful day it was and we had lots of interesting action to match. In the morning, our whaleboat, Fluke, went out and happened upon Three Fingers again and had a fine swim with her. Meanwhile our other whaleboat, Pec, found a pair of resting adults behind a different part of the reef. These two adult whales engaged in a variety of interesting underwater behaviors. The female often rolled on her back below us so she could take a better look at the swimmers on the surface, and on occasion would blow bubbles after making her dive. One time she even blew a perfect bubble ring which expanded in size to ten feet in diameter as it rose to the surface. The pair also made a few moves that made me think a little dancing might be in their plans for later that day.
Fluke came over to join the fun for some variety while Pec went over to join another operator very nearby swimming with a mom and her calf. Using standard protocols we swapped places only to learn that it was the mother with the unusual inverted sleeping behavior and her playful calf again! This is the fourth time we've seen them this season. This mom and calf are a remarkable pair of whales, some of our favorites for the season so far, and we had a great swim with them until we were all interrupted by the original two adult whales from nearby, now awake and very active, warming up for a possible dance. They came crashing into the peaceful scene, surprising the swimmers in the water and rudely awakening the mother whale, sending her and her calf cruising out of the reef. It was a bounty of whales!
_____________________________________________________________________________________
Thursday, March 14:
It seemed to be a day for playful calves. Both whaleboats had different pairs of moms with calves with the calves breaching repeatedly and cavorting on the surface. For one whaleboat, in between these extended shows, mom would take a nap while the swimmers became the focus of the calf's attention. It would swish and swirl, circling around everyone, taking the well-organized line of whaleswimmers and reducing it to a jumbled-up, laughing ball of snorkels, fins, knees and elbows. What was special about it was that usually when a calf circles a group of swimmers like that, mom will gather up her energetic wandering child and keep it close. This mom was content to let the calf play as it wanted to, but sometimes when the calf did swim off too far mom did circle over to reconnect and relax again. One time the calf even swam off and circled completely around a coral pinnacle before coming back to mom and the group.
Our guests this week got a good lesson in patience and faith, as the week started with difficult conditions above and below the surface and, at first glance, little to be excited about. But we knew better and they were rewarded daily. It was fun to watch even in "bad" conditions how the whales went about their usual day-to-day lives here on the Silver Bank. With so many opportunities at virtually every turn it was not a surprise to us to have the week finish with the sound of laughter on the water.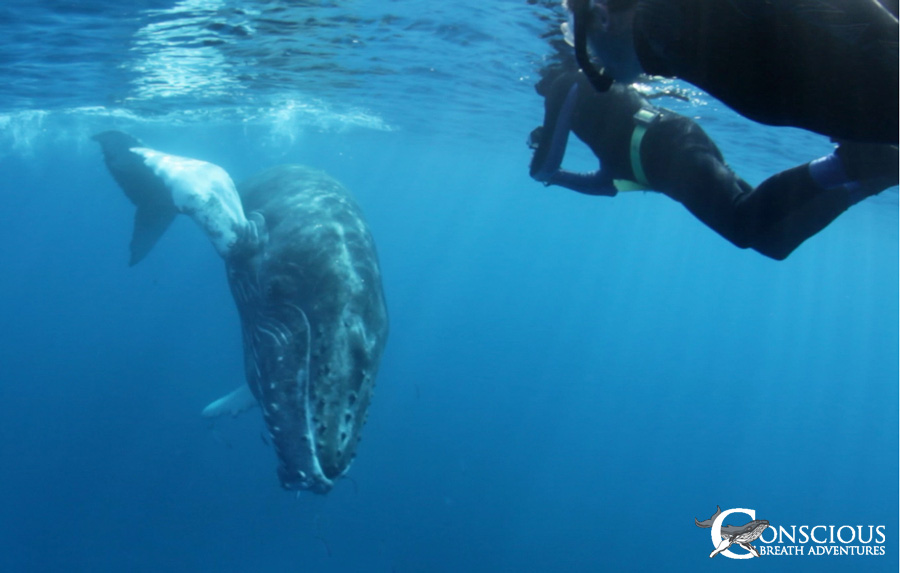 _____________________________________________________________________________________