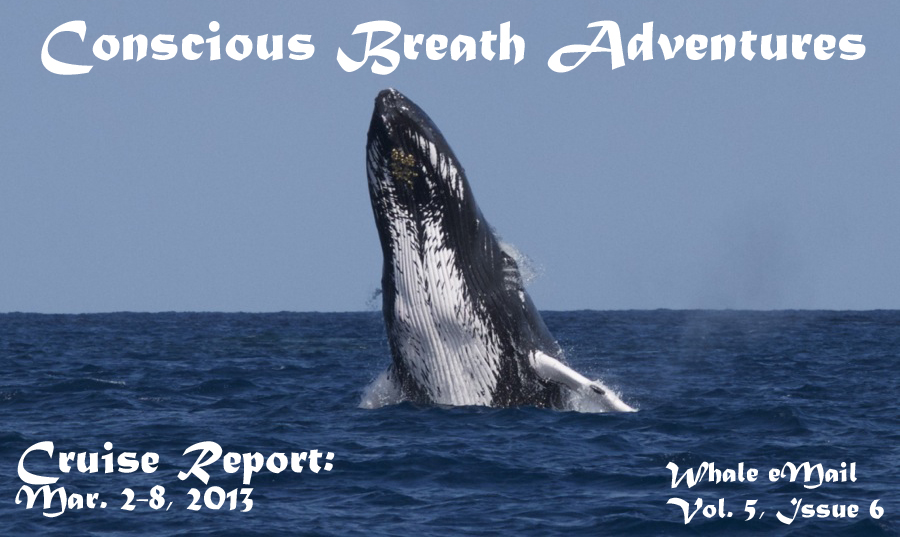 This was Week 6 of our 2013 season, and guests from the US, France and Germany were treated to a variety of weather and humpback whale action. We had another visit from a most unusual friend and made some new ones, too. No matter how often we visit the Silver Bank, every trip is different, you just never know how that will be until it happens.
_____________________________________________________________________________________
Sunday, March 3:
Some days start out with a lot of promise but end up being a little something different. This morning we arrived on the Silver Bank with good conditions and lots of whales to be seen, including a mother and calf which rested just below our whaleboat, Fluke, which floated on the end of its tow line behind the M/V Sun Dancer II.  It was fun to watch because usually we swim with pairs like this and often the calf will interact with the swimmers, but this time the calf was playing with the boat on the surface for almost twenty minutes with the mother just a few feet below. Maybe they were curious about the hull with its black paint on the bottom?
This pair gave us plenty to be optimistic about, but as the day progressed the leading edge of a strong cold front moved onto the bank and by early afternoon wind and seas were up and the picture had totally changed. Conditions were such that all we could do was a little whale watching from the upper decks of the M/V Sun Dancer II because we could not go out in Pec & Fluke.
Late in the day a flock of five wayward cattle egrets showed up and circled, landing on the big boat for a short while. Our mooring is almost 80 miles offshore and egrets are not seabirds; these birds were very lost. By nightfall they were nowhere to be seen again and all we could do was hope they were able to make it safely ashore somewhere…
_____________________________________________________________________________________
Monday, March 4:
Conditions were only a bit better this morning, with lighter winds but dark, overcast, skies. Heading out in our boats, one of the highlights was a "rowdy" group of at least six male whales competing for the affections of a single female. Under the stormy skies the action was cast in an especially dramatic light.
Later in the afternoon we received a call on the short-range marine VHF radio from a fellow operator about a mother and calf pair that they had been swimming with, asking if we would care to share the fun? We happily accepted with thanks, and using standard protocols we traded places only to find when we entered the water that this pair was the mother whale we have swum with twice this season, including February 28, with the unusual inverted sleeping behavior! She is an amazing whale and gave us another unforgettable swim for the last hour of the day.
_____________________________________________________________________________________
Tuesday, March 5:
With improving weather we went forth for another day's adventure. Late in the morning we were rewarded with some of the clearest water so far this season and a beautiful mother and her calf. This mom was very clean, with few of the typical scars, scrapes or scratches on her wonderfully unblemished skin. Put it all together and she was just a very pretty whale to be in the water with.
In the afternoon the highlight was an impressive display of surface behavior from another mom and calf, especially with the calf breaching repeatedly. It would fire off a full-body breach, then three or four more of lower altitude before taking a break for a few minutes, then going again. During one of those intervals I was taking long distance photos of the M/V Sun Dancer II on its mooring when the calf launched itself right where I was pointing. Quickly firing the shutter, I was able to get photos of the calf in full flight, completely clear of the water. Sometimes, with photography, it's better to be lucky than good!
_____________________________________________________________________________________
Wednesday, March 6:
The weather has taken a delightful turn for the better, with calmer seas and clear blue skies. It's always a pleasure when the sun is shining, but even better when there are whales to meet, too.
The highlight of the day was an excellent extended swim with another friendly mother and calf that lasted for hours. Mom was very relaxed, often logging at the surface or resting just below, and during their breath cycle she and her calf frequently approached the swimmers for a closer look. Sometimes the swimmers would take a break to warm up in the sun before getting back in the water for another encounter. Between the tranquil weather, peaceful whales and relaxed pace for the day, it made for some very contented whaleswimmers!
_____________________________________________________________________________________
Thursday, March 7:
We've seen and swum with lots of mothers and calves this week so it was an exciting change of pace when we found a mother and calf accompanied by a combative escort and challenger. The escort was a big old whale, while the escort was a much smaller, younger whale. The old guy had little patience for the impertinence of youth and showed off some of his most impressive threat displays as warning, including bubble trails and blasts, lunges, trumpeting and back-arching spyhops. Watching these interactions between individual whales is always a thrilling study in animal behavior.
Early afternoon offered the opposite energy level, another swim with a relaxed mother and calf who were napping in the reef just at the edge of the anchorage, near the wreck of the Polyxeni. The water is shallower here, around 45' between the rocks that rise to the surface, so the view of the whales is always good. This pair was often logging on the surface, eyes closed as they napped, bobbing and jostling in the waves as limp as giant rag dolls.
_____________________________________________________________________________________
And lines are loosening now as we cast off for another beautiful week on the Silver Bank. Make your plans to join us in 2014!
_____________________________________________________________________________________