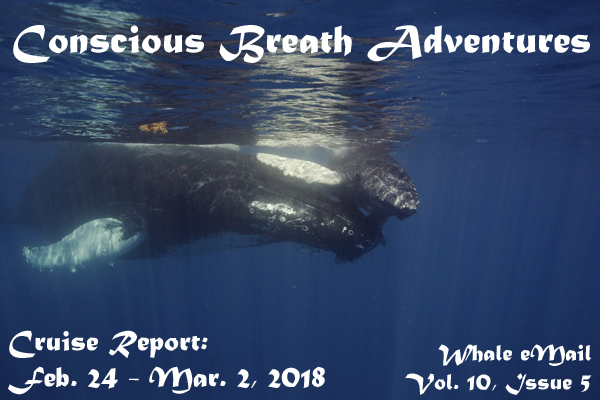 Greetings Whaleswimmers!
Thanks for joining us here with our Cruise Report for the fifth week of our 2018 Silver Bank humpback whale season. We had a boatload of guests including many returning friends and even a little bit of family, a special treat when so far from home, as well as a bundle of new visitors, future friends one and all. It was another delightful week out there with whale action in abundance for everyone…
I hope you enjoy this post but don't forget!: if you want to join us we still have a little space available on our March 31 – April 7 cruise, and a special offer to help! Contact us right away for more information.
---
The Bright Side of Gray Weather
The week started out with a bit of weather but nothing too bad; breeze and a few showers but sometimes a bit of weather just adds a layer of richness to the experience. So it was on Monday morning, when rain showers just after sunrise created some of the most vivid rainbows imaginable (above).
---
Whales Don't Mind the Rain
Heading out in our whaleboats after, we crossed paths with a mother, calf and escort just as another heavy shower overcame us. But when the plan is to go swimming, getting a little wet is no problem at all and the whales didn't mind the rain, staying very close alongside as we drifted (above), just a few feet away, almost close enough to touch, repeatedly circling and passing just below, even as the rain came tumbling down from above (below).
---
The Mystery Deepens
Later in the day we met and swam with a familiar friend, the mother whale we know as Mystery, and her calf. You probably remember her as the first whale we swam with this season, the whale on my business card, and so much more than that. We have a deepening history with Mystery! This has been three sightings so far this year and she is one of our favorites this season. Our guests had a delightful swim and it was great to see her and her bouyant baby again.
---
Sleep Need Not Be Boring
On another day we found a pair of adult whales having a bit of a nap, a great situation for a swim. This laid-back pair was resting on a 15 minute breath cycle which meant four times an hour they would slowly rise to the surface to check us out, sometimes more closely than others. It was an easy afternoon in the Big Pool…
---
An Awesome Family
Even with all this great action the highlight of the week came on our last day when things started well and got even better. The weather was perfect and shortly after starting our morning excursion we found a mother and calf with the mom floating like a log on the surface, just beautiful. All our guests had the chance to swim with the peaceful pair on and off over the course of the entire morning, Mom giving us the chance to slowly swim all the way around for a 360º view. Hats off to our guests who followed the directions from the guide perfectly, a truly soft in-water encounter.
---
Not Just Underwater
But swimming wasn't all we saw. During these longer encounters we routinely take periodic breaks to give the whales some privacy and allow our guests a chance to have a snack and warm up in the sun. On one such break momma decided she and her calf wanted some exercise so they launched off on a series of breaches and pec-slaps, one after the other, both at once, every combination imaginable (above). It was a tremendous show and after it was over and the whales settled back down for a nap we joined them again back in the water. It was a fantastic morning but the day wasn't over yet.
---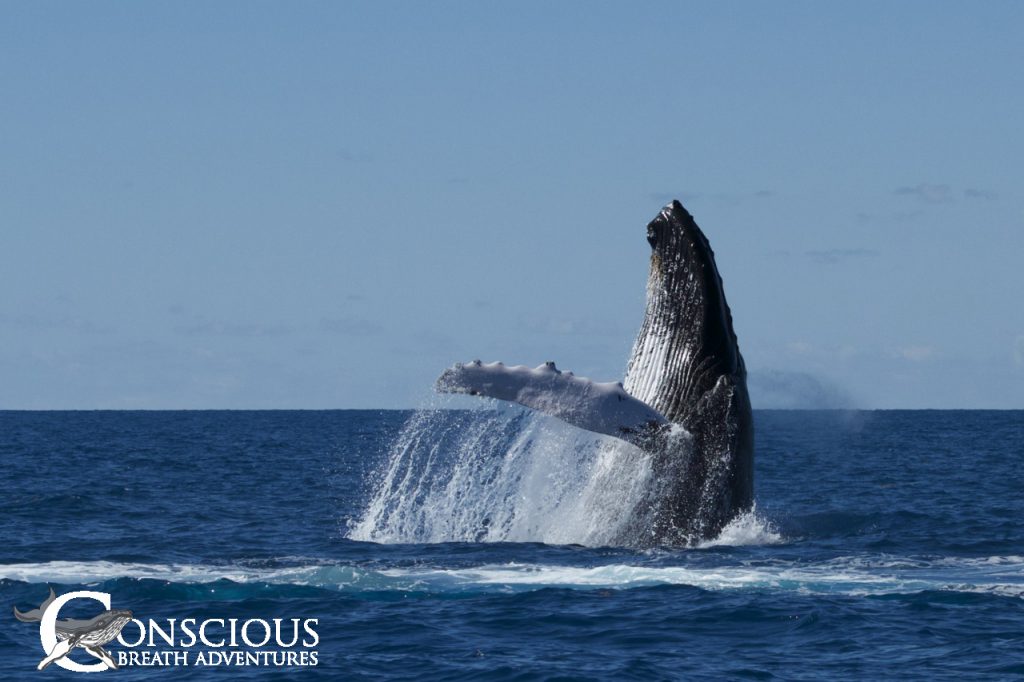 Action Above
Working through lunch (if you can call this work) one of our boats continued to track mom and calf as they continued the show, breaching more than 20 times all around the boat. On one occasion the mother slowly swam just a few feet below the boat before accelerating with one or two pumps of her tail into a full breach just yards from the boat. Unbelievable!
---
A Flubbery, Rubbery Calf
Meanwhile our boat found another mother and calf in the reef, mother resting and calf playing at the surface, lobtailing vigorously and rolling and playing in the rafts of Sargasso weed floating on the surface. Once he settled down and our swimmers were in the water this was a boisterous little boy who was very happy to find he had something other than seaweed to play with. He gave us a number of close passes and looked us over closely before mother decided he was misbehaving and moved a short way off.
---
A Song for the Road
We went out to join the other boat, still tracking a group of rowdy males giving another great show but when we got there the show had stopped, at least the topside part, because moments later we could hear the distinctive notes of a singing whale coming up through the hull of the boat. We had a singer! And so for the last hour of the last afternoon of Week 5 we swam in the bone shaking song of a male humpback whale, serenading us as the sun settled toward the western horizon…
---
One of Two
And as if all that wasn't enough, after the sun set at the end of the day, we were treated to one of just two full moons we see every season, a brilliant moon that turned the seas mercury silver… what a day, what a week…
Thanks for reading and remember that if you want to join us at the end of March we still have space and are offering big discounts so get in touch!
See you next week!
Capt. Gene Flipse