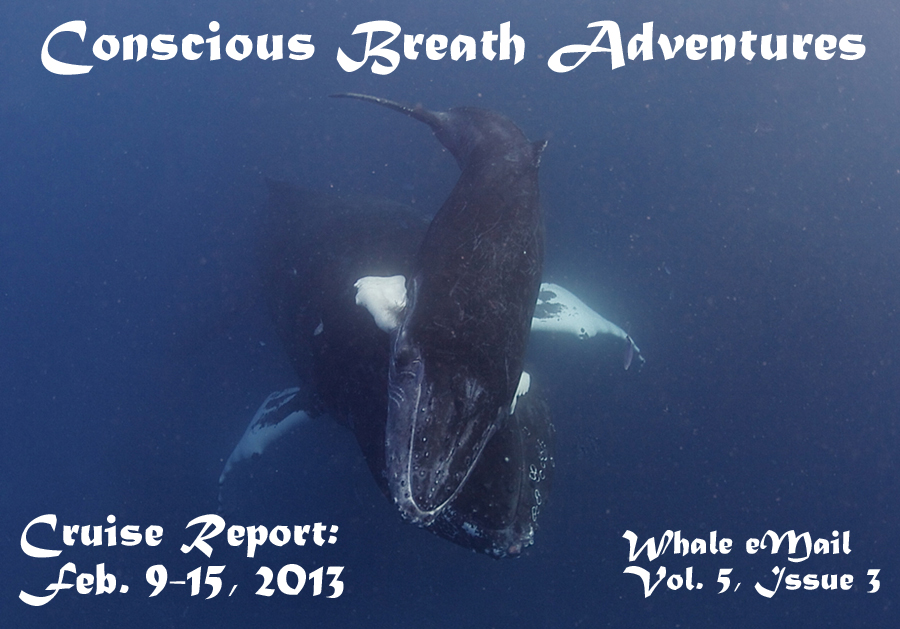 Sunday, February 10:
Our third week started out with a bright and sunny morning with lots of whales to be seen. Come afternoon, for our first excursion, skies darkened a bit and the clouds took some of the gleam off the day. Nevertheless, late in the afternoon we crossed paths with three whales actively socializing on the surface. There was some of the tell-tale behaviors such as rolling, spyhopping, tail-sweeps and swirls that are often seen when the courtships are going strong.
After slipping quietly into the water, the three circled the swimmers at the limit of visibility until the third whale gave up, leaving only the happy couple behind. After that, the dance picked up tempo and moved into a more intimate distance and for twenty minutes the pair circled, swooped and spun around us in the water. Much like last week's late afternoon encounter with dancers, we had to climb out and head back to the M/V Sun Dancer II as the sun dropped toward the horizon.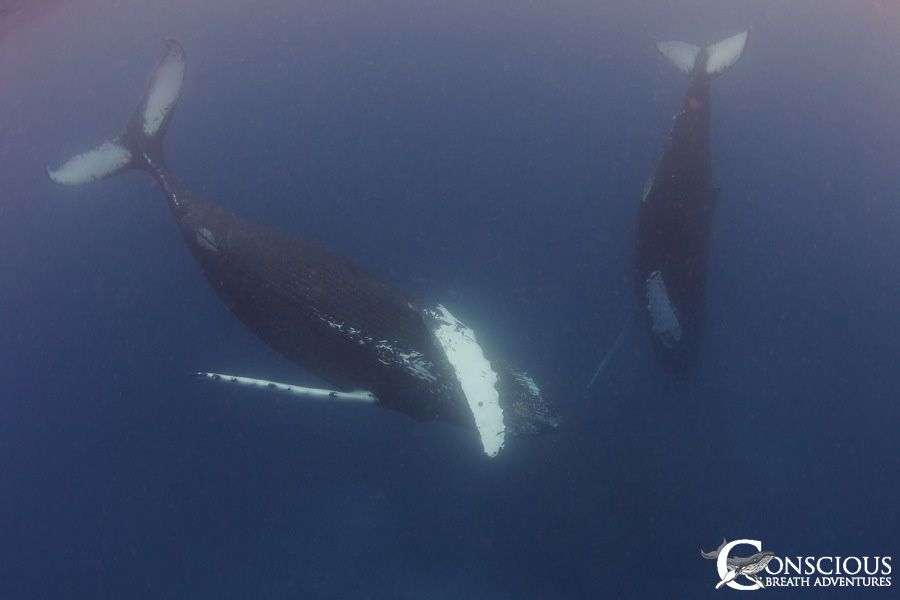 _____________________________________________________________________________________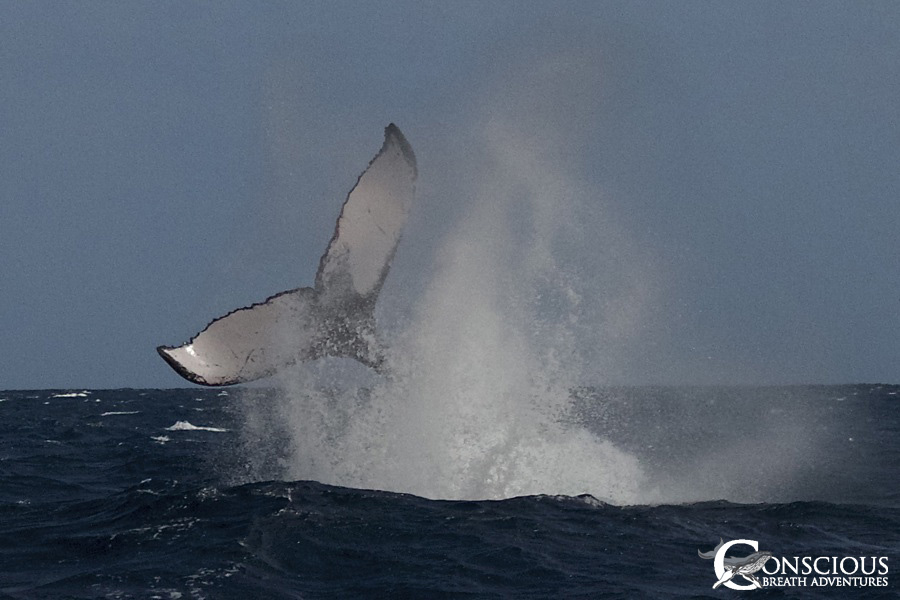 Monday, February 11:
This morning we woke to a sunny but windy day, with winds over the threshold 25 miles per hour that is the cutoff under Dominican regulations for activities in our whale boats. Everyone spent the morning whale watching from the expansive upper deck of the M/V Sun Dancer II, enjoying the fresh-baked snacks coming out of the galley, or relaxing with a good read.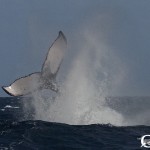 After lunch conditions were better and we were able to get back on the water. One of our boats had an excellent display of surface social behaviors, with an assortment of pec slaps, peduncle throws and lobtails all at close range. It was a classic Silver Bank show.
A little later we found a couple of whales resting and had an interesting interaction. One of the pair was sleeping in a head-down vertical position, the classic "singer" pose, even though it was not singing. When it was time for a breath, this whale would slowly rise straight up tail-first until it's fluke came high out of the water, then sinking and leveling for a breath. Very cool! Also, this whale had a very distinct, deep, "V" notch in the top of the dorsal ridge forward of the fluke, an obvious sign of a serious entanglement at some point in the past. Read about another incident of entanglement on the Silver Bank last season in our Entanglement Report of 02/12/12.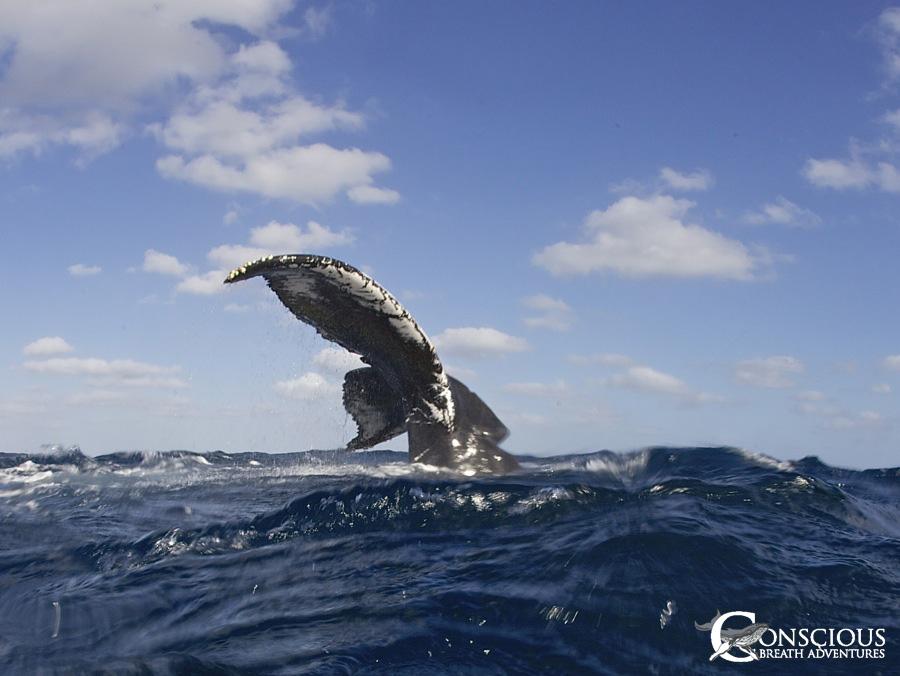 _____________________________________________________________________________________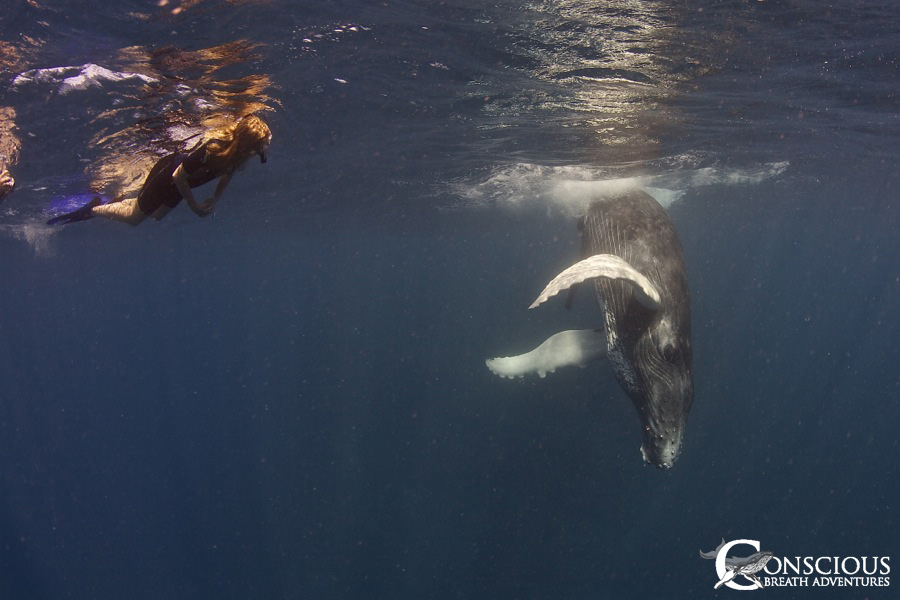 Tuesday, February 12:
This morning our highlight was a fun play session with a pretty little girl whale and her mom. Mom was very relaxed and at first the calf was a bit shy and reserved but she soon came out of her shell. At the peak, the beautiful young calf rolled, twisted, swished and swirled at the surface, frolicking for her new friends. She seemed very pleased to show off, staying at the surface uninterrupted for almost twenty minutes. Whale watching is all about making a connection with the animals and there is no deeper connection than being eye-to-eye. This little whale gave all that and more.
In the afternoon we also spent some time using our Aquarian Audio hydrophone to listen to the chorus of whales. The song has some interesting elements to it this year, and I was able this weekend to upload a short clip through the Conscious Breath Adventures SoundCloud page. Listen to the track here. Judging from the chorus, there are a lot of whales out there! Usually I can pick out 4-8 individuals, now there are so many it is impossible to tell how many there are.
_____________________________________________________________________________________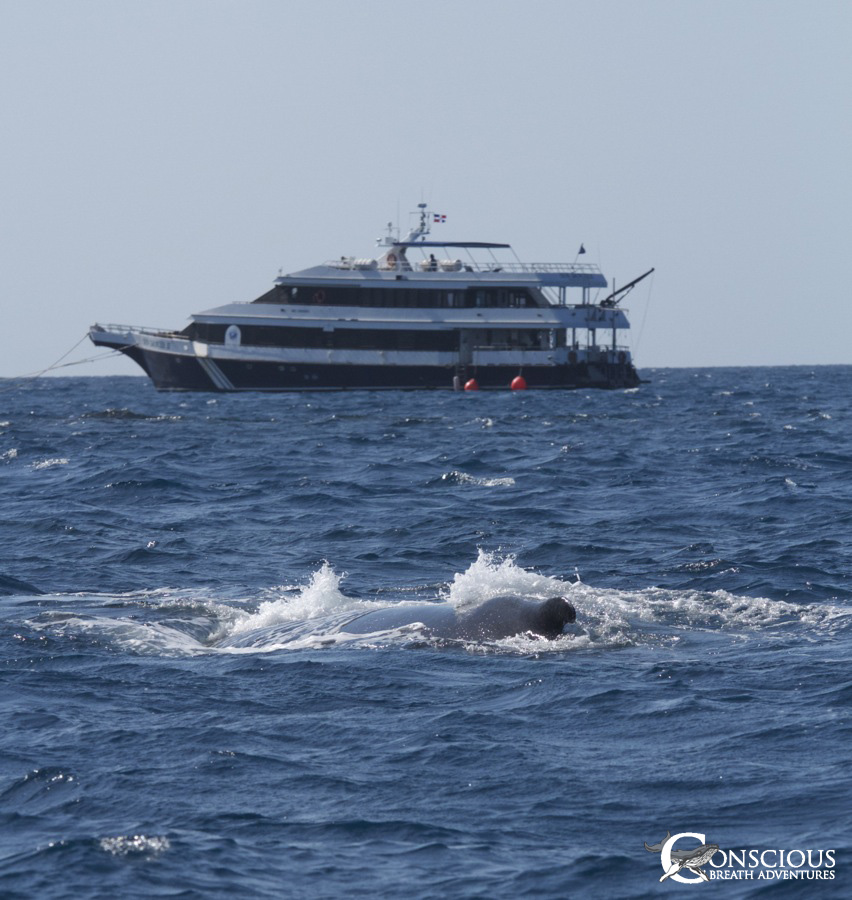 Wednesday, February 13:
The season is in full swing now and we never have to look far to see a whale, often seeing one or more before we even finish breakfast. Most days we rarely have to travel more than a couple of miles from the big boat to encounter the whales, today it was much less. A few different moms and calves gave us good swims over the course of the day.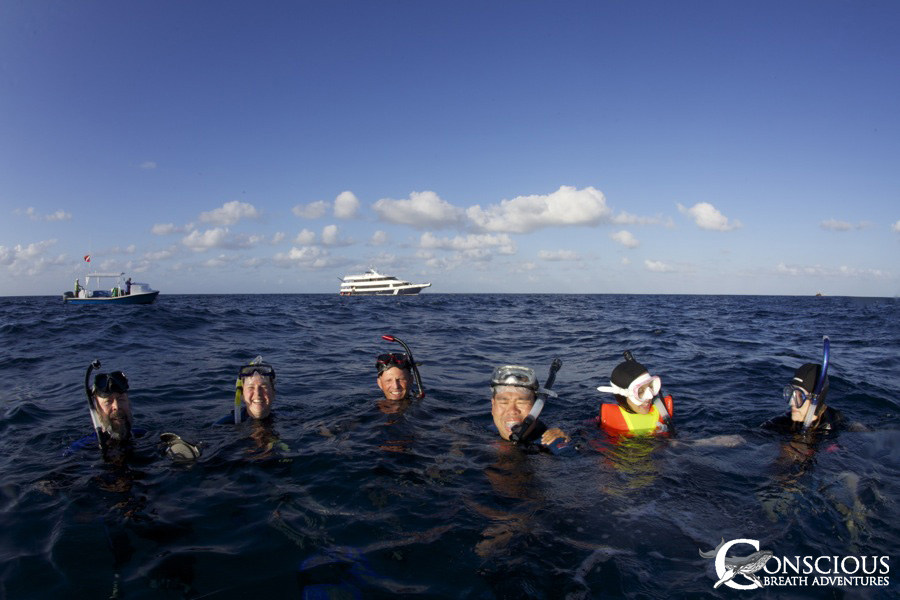 _____________________________________________________________________________________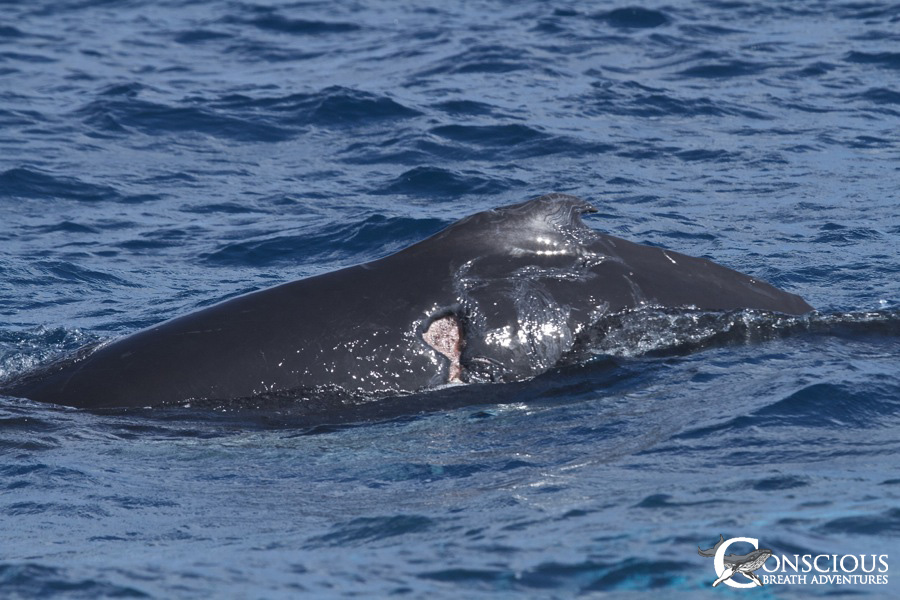 Thursday, February 14:
Today we saw a mother and calf pair that we sighted in both the morning and afternoon, where the calf had very distinctive scratches and a nasty healing wound which, when taken together, look like the result of a possible attack by a predator. The scrapes and scratches, with their even spacing and parallel tracks, could be from an attack by orca (killer whales) in the deep waters of the open North Atlantic during their migration to the Silver Bank. This was our best guess from available evidence and our guess has quickly been confirmed by Alisa Schulman-Janiger, marine biologist, educator and killer whale researcher in Los Angeles for 30 years (California Killer Whale Project) who notes the numerous visible parallel rake marks are "classic killer whale tooth rake marks", much different from a shark bite which typically has teeth tightly spaced in a semicircular pattern. Alisa Schulman-Janiger also says that while the rakes are from orca, the bigger wound could be from something else, as they are not like anything she has previously seen as the result of an orca attack. We'll be watching for this whale in the weeks to come. Thanks, Alisa!
In the afternoon we encountered a really fun mother, calf and escort where the mom and calf circled slowly, rolling at the surface while the escort circled below. At one point the mother turned directly toward us with the calf on her nose, nudging her toward us before dropping below, as if to introduce her calf to the swimmers in the water. It was a lovely show of cetacean love on Valentine's Day!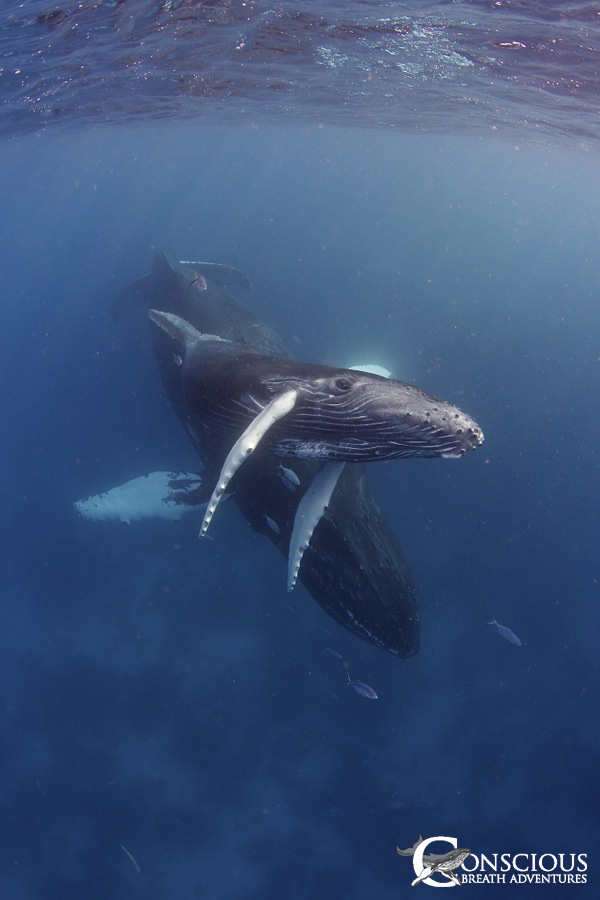 _____________________________________________________________________________________