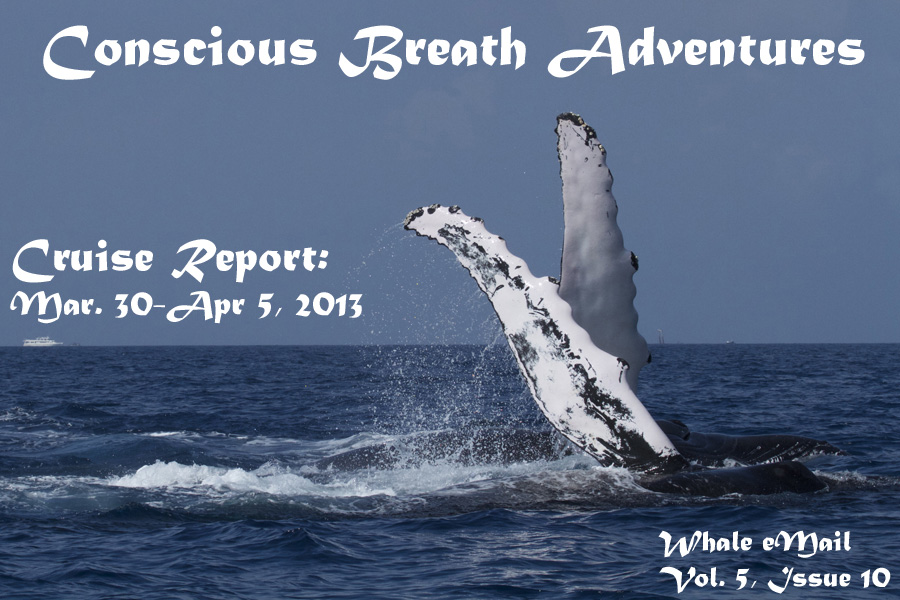 Wow! The 2013 humpback whale season on the Silver Bank has come to an end. It was a wonderful few months with the whales and, with forgiveness requested for my short break, I hope you enjoy this final Cruise Report.
I find that the last week of the season is always a bit of a whirlwind. After nine weeks of continuous activity the final week always seems to pop up suddenly and then we find ourselves doing everything for the "last" time: our last Sunday afternoon, our last natural history presentation, our last slice of banoffee pie for dessert (!). Then suddenly it's all over, we take a parting look at the wreck of the Polyxeni (what will it look like next year?), give our thanks and say our goodbyes to the whales. Then the cleaning and packing takes over and before you know it, we are thinking about the next season again; which we are… but the good news is that it is just nine months until the 2014 season begins!
Week 10 was a great mix of whale action for us. The surface activity was going on strong all around us and throughout the week our guests were able to see some of the very best up-close displays of breaching we've had this entire season. Sunday afternoon featured a mother with her enthusiastic calf giving us a show (left) and we had an even better display later in the week when another mom and calf both got into the act, with the mother repeatedly launching herself near the boat with tremendous impact (below). It just never gets old!
As the season moves on different behaviors come to the fore, and this week we also saw more, larger and more determined rowdy groups, too. Earlier in the season, with more available single female whales in residence, there were more opportunities for the eager males, but as more of those single females became pregnant and depart the Silver Bank, the ratio of available female to male whales changes and the competition becomes more intense. Several times during the week we were treated to the thrill of large rowdy groups vying for the affections of a female. It is just amazing to witness these animals (at 35 tons each, more than 800,000 pounds of raging humpback) charging hard in a tight pack of muscle and energy. And even more amazing when the female in hot pursuit takes a short break close to our tender and we find ourselves surrounded by a dozen or more whales close enough to touch and yet supremely in control of the race and their ocean.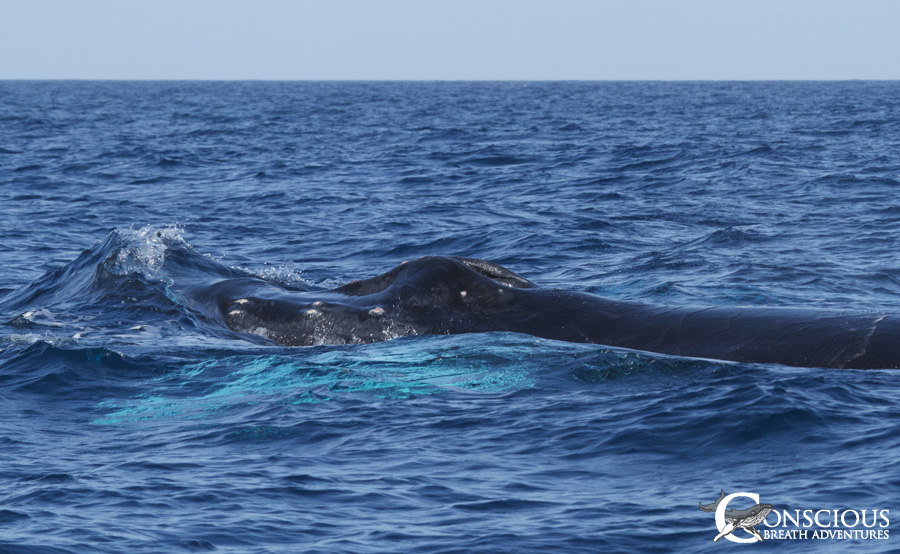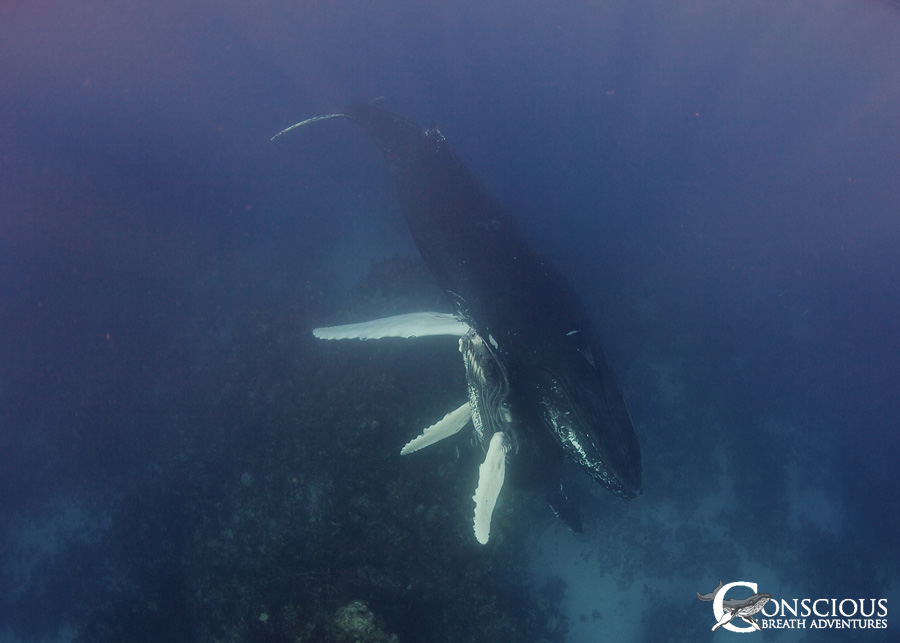 Even in the late season there were still plenty of whales to be found and it was interesting to note that in the last couple weeks of our time here we saw some of the smallest and youngest calves of the whole season. These are late-season babies, born in the closing weeks of March, lingering with their mothers while they gain the strength they need for the northward migration. They have a long swim in front of them and we wish them all a safe trip!
In the water we had plenty of opportunities although some of the whales seemed at times restless, as if thinking about their northward trip. We enjoyed in-water encounters with a number of mothers and calves and ended our week, and my twelfth season on the Silver Bank, gazing into the big brown eye of one of the most peaceful humpback mothers we've met to date. It's an image that will sustain me over the next nine months!
At the end of it all we find ourselves back at the Ocean World Marina where we packed up our things and on Saturday morning bid farewell to the M/V Sun Dancer II as they departed on their 6 day cruise back to their home port in Belize, off for another season of scuba diving the barrier reef there. We wish them a safe trip and look forward to seeing them all again next year.
After a bit of cleaning and maintenance of our two boats, Pec & Fluke, we had a few days to enjoy some of the local attractions here in the Dominican Republic. The Dominican Republic is a beautiful, lush country with warm and friendly people and it was nice to have the chance to explore a bit more. Highlights were a trip to a local amber mine; a day walking the beaches near Cabarete; and a hike into some of the less-traveled waterfalls in the area, with deep, cool swimming holes. We also now know a great deal more about some of the local establishments where some of our guests may like to stay in the future and look forward to helping you plan an even more meaningful trip to this part of the world.
Thanks for following us here (or joining us in person) this season and I hope you enjoyed reading about some of our adventures. We will revisit some of them in the months ahead, and if you have anything you would like to learn more about, please feel free to contact us and let us know. Watch this space for more environmental reporting; photos, sound recordings and videos of the humpbacks. And watch for our next adventure, swimming with wild spotted dolphins in the Bahamas!
Sincerely,
Capt. Gene Flipse
Conscious Breath Adventures