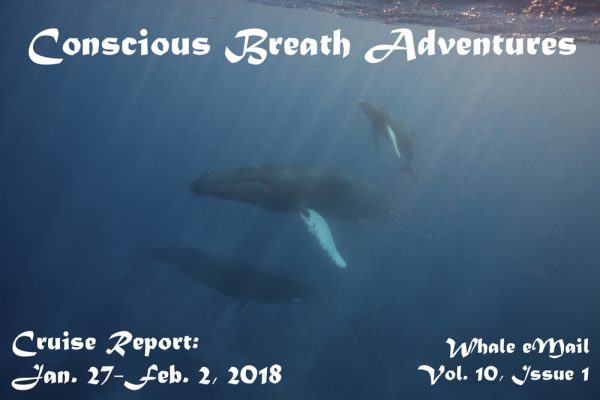 Greetings!
Hello and welcome to the first Cruise Report of our 2018 humpback whale season, Conscious Breath Adventures' tenth, and my sixteenth, on the Silver Bank! We'll be sharing highlights and photos from each week we spend with the whales this spring, and hope you can share in our appreciation for these majestic animals.
As our guests came aboard on our first Saturday afternoon of the 2018 season we were excited to welcome them and keen to get going but the weather had other plans. An especially powerful weather system was impacting the area and forecasts called for two days with winds gusting over 30 knots and seas of up to fifteen feet! Conditions like that are nothing to play around with and the Comandante of the Port took the very unusual step of actually closing the port, refusing to grant the required dispatches to any vessel, including the Silver Bank operators, until conditions improved. Without official permission we could not leave even if we wanted to; given the conditions, we did not want to.
We filled the downtime with presentations, discussions and good food and the fleet was finally granted permission to depart so by Tuesday morning we were safely moored on the Silver Bank. Trying to make up a little lost time, guests and crew rallied and we headed out in our whale boats as quickly as possible.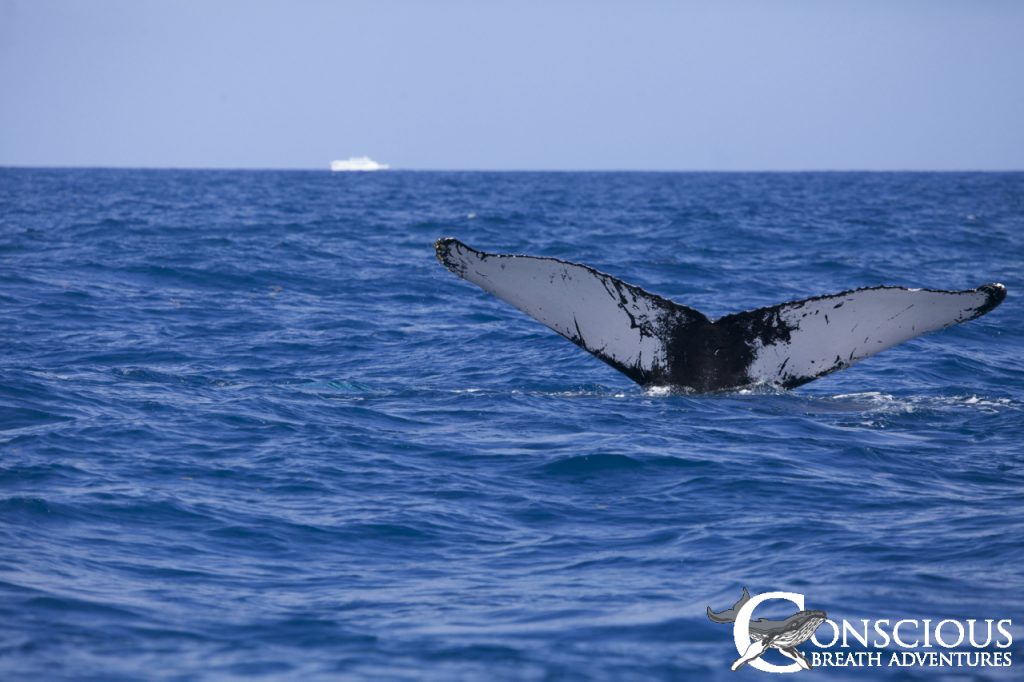 Mystery Whale:
Each of our custom whale boats, Pec & Fluke, quickly sighted numerous whales and Fluke, started tracking a mother and calf with her escort male. At one point early on in the track the mother lifted her tail fluke high giving a very good look at the unique markings on the underside that are useful for identification (above). I recognized this whale immediately! She has been featured in several previous Cruise Reports but is a bit of a mystery because, prior to sharing my photos, she had never been photographed and was not in any of the identification catalogs for the North Atlantic whales (she is now). She is not a 'known' whale like many in the catalogs and we still don't know where she spends her summers feeding. But she is so photogenic that I'd used her image on my business card (below).
So here was this whale, from my card, unknown to the various catalogs, which only I'd somehow managed to photograph over the years, and she ends up being the first whale we swam with for the 2018 season! We had a great swim with the trio and I will be looking for her the rest of the season, too. With this serendipitous first encounter and a few other good swims, too, our first afternoon was a very happy reward for the earlier weather bomb.
Super Blue Blood Moon:
A little later in the week we were treated to a treat of a celestial nature when we had a brilliant view of a Super Blue Blood Moon. It is identified as "super" because the moon was at perigee, the closet point to Earth in its orbit, making it appear bigger and brighter; "blue" because it was the second full moon in the month (as in "once in a blue moon"); and "blood" because it was also eclipsed by the Earth's shadow as it transited, giving it a reddish color as the shadow passed. In our hemisphere we did not get to see the blood because that was occurring in the South Pacific Ocean areas but it was a very silvery night on the Silver Bank nonetheless.
On other days we had some spotty weather but wonderful rainbows (above) and thrilling views of all sorts of topside action, too. We witnessed at close distances lobtailing, pec slapping, breaches and double breaches, sometimes only yards away from the boat. In some photos you can see the anemones on the barnacles on the chin of the whale.
Making up for the time we lost due to weather at the beginning, we modified our itinerary to get out on the water earlier in the morning and stay out later in the afternoon, maximizing every minute of daylight. The biggest payoff came on Friday, when we stayed on location for an extra half day beyond our regularly scheduled sunrise departure. Knowing we had to leave the Silver Bank after lunch, with the clock ticking, our boat Pec located a mother, calf and escort resting in clear protected waters up in the reef. For the last two hours of the cruise all our guests were treated to a curious calf, a very restful mother, and a diligent escort who circled about before settling in for a good nap, too. As time finally ran out we left them as we found them, snoozing peacefully in the reef where we will be looking for them again next week. We hope you'll join us then and, one day, maybe even here in the waters of the Silver Bank!