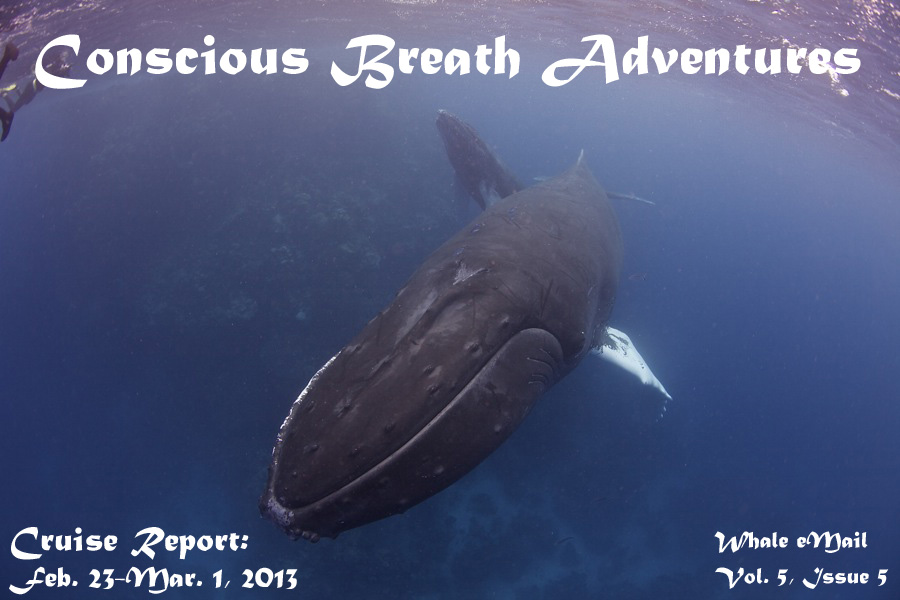 Welcome to our Cruise Report for Week 5 of our 2013 Silver Bank humpback whale season. We are at the halfway point now, this weekend, and as usual there is a lot going on here in our port of embarkation.
The biggest event of this weekend ashore is a crew change as our valued staff and very good friend, Capt. Jeff Pantukhoff of the Whaleman Foundation, concludes his tour here in the Dominican Republic. By the time we are done here on the Silver Bank in early April, Jeff will have concluded three excursions guiding supporters of the foundation to visit the friendly California grey whales in Mexico's San Ignacio Lagoon and will be in Japan working diplomatic channels to stop the killing of dolphins in Tajii and elsewhere. Thanks, Jeff, for all the good times and for all your help this season. Safe travels!
Taking Jeff's place will be CBA guide and naturalist Elisa Buller. Elisa is a scuba diving instructor, captain, photographer and videographer who has worked with spotted dolphins in the Bahamas, and humpbacks in Tonga and on the Silver Bank. Thanks for joining us again, Elisa!
Week 5 was an exceptional week with many stories to tell. We had a bunch of returning guests and many more fresh faces, folks from as far away as Holland , Alaska, California and New England. It was a fun group and they have a shared experience now that they will never forget. Let's get started… Continue reading →