What makes Conscious Breath Adventures special? We believe it is our unique combination of people, experience, skills and philosophy that set us apart.
Our team has a diverse background with lifetimes of experience on, in and under the water, guiding guests to witness the wonders there and fighting to protect them for future generations. Years of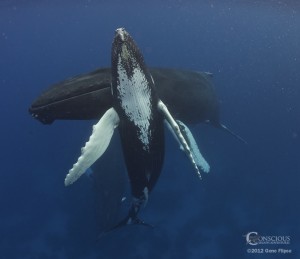 service working as captains, conservationists, researchers, photographers and film makers has led our crew to develop a love of the environment and a deep respect for the creatures that live there and a desire to spread this passion through shared experience, education and leading by example. These feelings are reflected in the Conscious Breath Adventures philosophy which is to lead our guests on an eye-opening adventure that will inspire love and respect for the whales and their environment.
For a deeper understanding of who we are and what we stand for, please visit the pages here under the About Us menu to learn about Our Name and Philosophy and how one reflects the other; to read the individual stories of the members of Our Team; and to learn how these people apply this philosophy through Education, Conservation and Research.
If you still want to know more about us, we'd be happy for you to Contact Us and we look forward to meeting you!